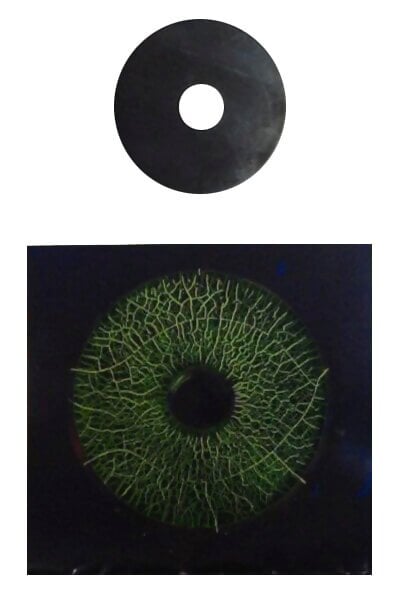 ---
Used to test the sensitivity of Wet Method Baths (MPI Suspensions)
---
A reference picture and description of the bath
---
The Western Instruments MTUTest Piece No. 3 is used to test the sensitivity of Wet Method Baths (MPI Suspensions).A reference picture and description of the bath, accompany the Certification for this Test Piece, so an existing or new Bath can be compared to indications from an optimum system.These blocks can be used for Wet Fluorescent or Visible Baths (with White Contrast Paint).
The 9934-2, Type 1 is a disk, 50 mm in diameter by 11 mm thick, with a 10.5 mm hole through the center.The Serial Number is engraved onto the outside edge of the disk.There are 2 types of cracks induced onto the surface; Grinding (or Course Cracks), and Stress (Induced by quenching).The surface of the Test Piece is ground, with a Black Conversion Coating which permits damage to be easily seen.The Test Pieces are magnetized with a Central Conductor at 1000 Amps DC.
Western Instruments MTUTest Piece also manufacture a Test Piece C (similar to a Ketos Ring), and a Test Piece D (a 300 x 50 x 25 mm Block, with 8 side drilled holes at various depths).Western Instruments MTUTest Piece Blocks can be re-certified, when necessary, by an authorized agency.